2019 Jaguar E-PACE: British luxury without breaking the bank.
March 29 2019,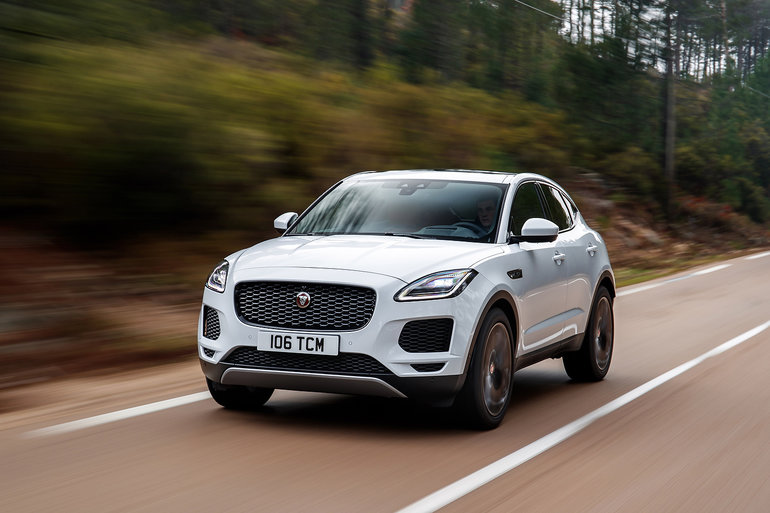 The new 2019 Jaguar E-PACE is not the kind of model you think about when thinking of Jaguar. We tend to think about the spectacular F-TYPE first, then we think about the surprising and revolutionary I-PACE. The good news is, you can get everything that makes those models great in the new affordable and still very refined Jaguar E-PACE.
The 2019 Jaguar E-PACE offers both luxury and versatility
Despite its compact dimensions, the new E-PACE is one of the most spacious compact luxury SUVs qui can buy. It has plenty of cargo space behind the rear seats, and plenty of cargo space as well. It offers the kind of versatility you want from a compact SUV while still behing quick, nimble, and easy to drive in the city. It also offers the kind of comfort you expect from a Jaguar vehicle.
Under the hood, its 2.0-litre turbo four-cylinder engine develops 246 horsepower and 269 lb-ft of torque. A quick comparison with its rivals shows that the Jaguar E-PACE is one of the most powerful in its segment. It will be able to reach 100 km/h in less than 7.0 seconds while achieving an average fuel consumption rating of fewer than 9.0 litres per 100 kilometres. If you're driving mostly on the highway, then fuel mileage is even more impressive.
As we mentioned earlier, the 2019 Jaguar E-PACE may be the most affordable vehicle in the Jaguar lineup, you will never feel like you are compromising.
Its cabin is basically a copy-and-paste of the more expensive and exclusive Jaguar F-PACE. You get the best of Jaguar in terms of elegance and comfort despite the relatively affordable starting price of the new 2019 Jaguar E-PACE.
For more information or to book your test drive, contact us today at Decarie Motors Jaguar.