2019 Jaguar F-Pace SVR: Who Said a Crossover Can't be Savage?
April 30 2019,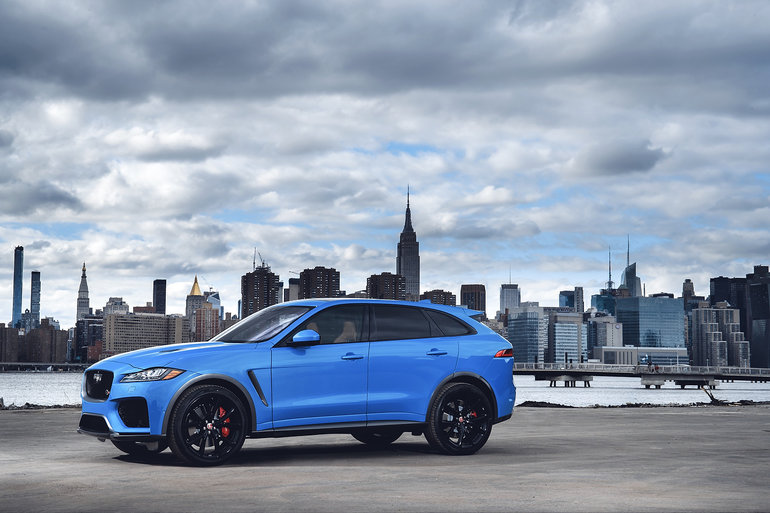 When you think crossover, the last thing you think about is motorsports and a track-ready vehicle, right? Well, time to rethink your definition of what a crossover can be with the all-new 2019 Jaguar F-Pace SVR.
For starters, the Jaguar F-Pace, while a crossover, is built on a car chassis, namely the same one found in the Jaguar XE. So, driving an F-Pace is very much like driving a car, not a ride-high AWD crossover. The fixings were there to apply some much needed power and oomph to the whole deal. And Jaguar definitely did that.
Only the second Jaguar to come out of the British automaker's SVR (Special Vehicle Racing) division, the F-Pace SVR is not your average crossover. Following in the footsteps of the F-Type SVR, the F-Pace SVR adds ultimate power and performance in a car that doesn't look that much different than the pedestrian version… until you take a closer look.
The Jaguar F-Pace SVR is tricked out with hood vents (for the intercooler), side vents (for the brakes) and large air intakes in the front bumper as well as a rear diffuser to help the F-Pace cut through the air as efficiently as possible. All of this sits atop 21" or optional 22" alloy wheels.
And those wheels carry a potent engine, as well. The 2019 Jaguar F-Pace SVR is equipped with an impressive supercharged 5.0L V8 with 542 horsepower and 502 lb-ft of torque. An 8-speed automatic controls all that massive power, and you'll revel in each shift with the specially tuned 95mm exhaust that creates a symphony of powerful sounds as you drive the F-Pace SVR.
Inside, the F-Pace SVR features control bits and pieces you'll recognize from the Jaguar XE, along with form-hugging performance seats for all outfitted in Lozenge Quilted Windsor leather, as well as a host of amenities that make the F-Pace SVR as comfortable as it's regular brethren like Apple CarPlay and Android Auto and even 4G WiFi.
If you thought a crossover couldn't be sporty, you're mistaken, and you need to head down to Decarie Motors now to speak to one of our experts about what this "grocery getter" is really capable of. Oh, and you'll definitely want to book a test drive, too.